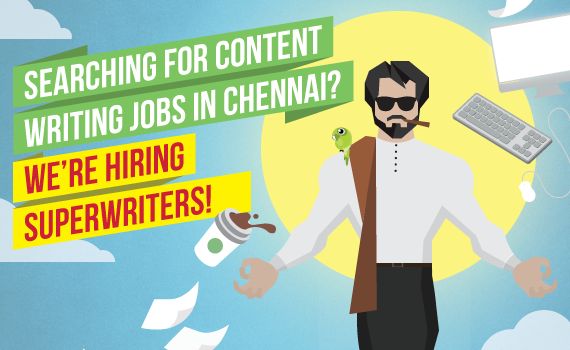 Learn to craft compelling content for India's leading websites.
We're now hiring freshers for content writing jobs in Chennai!
So what do we have for you?
Big brands, great exposure, and a learning curve so steep you can skateboard your way through it. Join us and we'll help you learn the ropes of content marketing for big businesses.
What your typical Monday will involve
Understanding client guidelines across projects and domains (from catalog to curated!)
Handcrafting high quality content that's in-line with client specifications
Ensuring consistency, in terms of style and
Taking up specialized client projects including and not limited to – technical content, blog posts, product descriptions, landing pages etc.
Editing and proofreading content for grammar, facts and style guide consistency
What We're Looking For:
Startup Drive
Excellent Written and Spoken English
Proficiency with MS Office
Versatility – the Ability to Write Content on Multiple Topics & Industries
Who Can Apply:
We're looking for freshers as well as writers with 1 or 2 years of experience in content writing.  All you need are some basic skills and we'll pave the path for you right to the top of the modern content marketing industry in India.
Where You'll Work:
Chennai is the city where Wordplay's journey began, in 2007. Our office is a great environment for content writers to learn from each other and rapidly grow to take on important responsibilities.
How Much?
Average CTC: INR 1.8 – 2.4 lakhs per annum
Apply Now!
Send in a mail to jobs.chennai@wordplaycontent.com with:
– Your resume
– A brief description of yourself
– Samples of your previously written work
Subject Line: Full Time Content Writing Application
Check out our Facebook page or our writing blog to learn more about us!