Travelers from around the world use the internet to learn more about their preferred destinations, and this is where travel websites come in handy. The catch here is that these websites are dime a dozen, so for yours to stand out, you'll need solid travel website content that helps your audience make the right decisions!
First Up, Answer Questions With Authority
To start with, before you put up any kind of travel website content, the first thing to do would be to understand your audience. Identify the primary reason why people visit your travel website, and serve that need first – in this case, information on tourist hotspots.
Put yourself in your reader's shoes, and you'll understand what goes on in his mind while planning a trip. This will in turn help you map your website's content out. For example, while planning a trip, these are the questions that any reader might face:
How do I get to the destination?
How's the weather going to be, this time of the year?
Where can I stay?
Will accommodation be affordable?
Are there hotels near the tourist hotspots and railway station/bus stand?
Should I book my room in advance?
How do I get around within the city?
Are there family-friendly attractions?
Are there hidden sites (beaches, hills) that are peaceful and less crowded?
How is the local cuisine? Can I find my preference of food there?
What can I buy for my friends back home?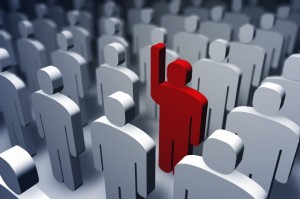 If your content answers all these questions, your work is done. The traffic will naturally pour in, thanks to recurring and first-time visitors who are drawn to the useful information.
The Two Types Of Travel Website Content
Travel website content usually involves large volumes, so it's a good idea to categorize the articles to manage them better. Categorizing the content is also essential from an SEO perspective, as it'll help you identify the keywords to use for each individual page.
You can organize your website content into two types:
Travel Guides and City Guides
Blog Articles
>> Travel and City Guides
These guides will form the core content of your website. You can organize the content by splitting it by each state and delving into further subcategories for each city and its related data.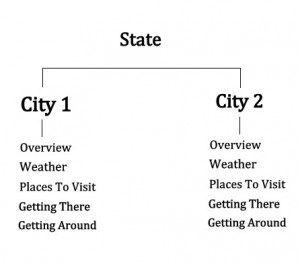 You can have distinct pages for every city, with separate sections covering essential information like places to visit, getting there and around, weather, and even activities for the adventurous. To make things easier for your readers, you can further divide these into subcategories. For example, under places to visit, you can classify the sites as religious, historical, and natural destinations, based on your target audience.
It's important to ensure that these pages share a consistent tone and style, for your website to have a standard feel to it.
>> Blog Articles
While the core content will drive traffic to your website through search, you'll also need engaging blog articles to add sheen to your site and solidify your virtual presence.
A well-planned blog with highly interesting content will help you build a strong community of regulars who frequent your website and actively promote your updates online, helping them go viral!
It's important to ensure that the articles/posts in your blog aren't run-of-the-mill, and engage the readers on topics that they are passionate about. From the latest news in the travel front to seasonal articles on the best places to visit, you can go creative with your ideas for blog posts, as long as they stick to the main theme.
Framing the right content strategy is an important part of setting up a travel website, because once this is done, you can opt for travel writing services to get your content completed in bulk. The above pointers should give you a basic idea on how to organize your travel website content, and you can add more ideas to the mix to create a comprehensive plan!
---
Wordplay Content is a full-service content writing agency that works with some of the biggest brands in India. Learn more about our travel writing services  or our other content writing services.